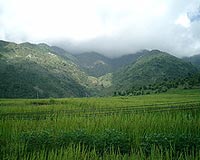 Location:
Himachal Pradesh, Northern India.
Altitude:
5200 mts
Summer Temperature:
Max 25°C and Min 15°C
Winter Temperature:
Max 10°C and Min -1°C
Average Rainfall:
300-320 cm
Best Time To Visit:
March to October
Dharamshala enjoys pleasant and cold weather throughout the year. The cool summer months were the prime motivators which made the British to choose Dharamshala as their summer capital. While summers are pleasant, during winters the temperature sinks to freezing point and it becomes imperative to protect oneself from chilly winds and minus temperature in the hill station. The spring and summer season will completely keep you enchanted with diverse hued flowers adding bewitching beauty to the freshly snow melted hill station. July to September is a time in Dharamshala which is famous for heavy rains in the region. December to February are the months during which Dharamshala is completely covered with pure white snow. To get more information on the weather front in Dharamshala, scroll down to plan your holidays in accordance with your choice of the season.
Summer
The summer season in Dharamshala lasts from March to July. However the summer months are a pleasurable time to be at Dharamshala. Here the mercury doesn't touch 30° centigrade and beyond. The pleasant summers of Dharamshala in fact are a reason, why many of the people from plains flock to the hill station. The summer days are pleasant at Dharamshala while the nights become slightly cold.
Monsoon
Monsoons set in Dharamshala from mid July and last till the month of September. The monsoon months further witness a dip in the mercury levels at the hill station. The rains however, render a romantic feel to Dharamshala, with freshly washed pine and deodar trees shining brilliantly. Heavy rains however sometimes lead to landslides and it becomes advisable to not to venture out with your automobiles due to slippery roads.
Winter
During the winter months, entire Dharamshala is covered in pure white snow by December. The winter season which lasts from October to February witnesses freezing temperature and extremely cold climate. With first snowfall in December, the mercury further dips in minus level. Dharamshala witnesses snowfall continuously from the month of December to February. Those who are interested in ice games, it is a boon to be present at Dharamshala. This is the time however to be completely covered with woolens owing to the chilly winds and freezing temperature.