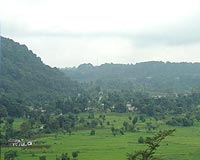 The hill station of Dharamshala came into existence in 1849, which was chosen as the site for accommodating civil population that raised in the town. It originally served as a subsidiary cantonment for the troops stationed at Kangra valley. In 1848 the hill station was annexed by the British who remained here till the independence of India in 1947. Due to its proximity to Delhi, Dharamshala became a popular destination, which provided respite to the British from the hot summer months in Delhi. Under the British, the town developed infrastructurally. Here one can still find several structures which are reminiscent of the British era.
Dharamshala has been a seat of spiritual learning since ages. The hill station has several small temples dedicated to Lord Shiva and goddess Durga along with monasteries dating back to the eighth century. The town hence holds immense reverence for people following the Hindu and Buddhist faith. Those who long for spiritual succor definitely make it a point to sojourn at this enchanting and tranquil hill station. Sounds of bells in temples and prayer bells in Monasteries will simply transport you to a different spiritual plane. The small hill station also has beautiful churches which too add to the spirituality in the air of the region.
Dharamshala is today the seat of spiritual Buddhist leader Dalai Lama, who have been living in exile here since the Peoples Uprising in Tibet since 1959. His Holiness Dalai Lama came to Dharamshala in the year of the uprising and brought along thousands of Tibetans who have made Dharamshala there home today. Owing to this reason Dharamshala has earned the reputation of being "The Little Lhasa in India". It is in Dharamshala that the Tibetans have kept alive their art forms, dances, music and culture. McLeod Ganj is today the seat of Tibet culture which the Tibetans seek to keep alive till they do not return to their homeland.
Dharamshala is divided into two parts as Upper Dharamshala or McLeod Ganj and lower Dharamshala which is the commercial centre of the hill station. Dharamshala is known for the bounty of nature it enjoys. Located in the Kangra valley, Dharamshala will offer a visitor breathtaking scenic beauty with the presence of snow covered peaks, tea plantations and unsullied water bodies. Rich forests of pine and Deodar will enchant you with mist adding romance to the ambience. The winters enthrall the visitor who are here to enjoy the snowy weather while summers provide a respite to the people who flock this hill station in large numbers. With several shades in its kitty, Dharamshala is one of the leading hill stations which enjoys a high rank on the tourism map of India.